T
he STAFF
AZLAN Ismail
Founder and Chief Instructor of the Club. First civilian to jump in Malaysia. Has logged more than 2500 jumps and has represented Malaysia in numerous skydiving competitions. Jumped into the Bukit Jalil Stadium for the opening of the Commonwealth Games in Kuala Lumpur. Did a number of aerials stunts for movies and media advertisements. Was responsible for the training of 15 Malaysian youth for the 1997 North Pole Skydiving Expedition.
First Malaysian to BASE jump from the Petronas Twin Towers. Also a qualified Paramotor instructor.

ABDUL KARIM Salleh
Before joining the club, Karim was a senior Freefall Instructor with the Malaysian Special Forces Airborne School. He has accumulated more than 7000 jumps and is the other instructor who jumped in the North Pole. He is a rated the instructor-examine. Represented the Malaysian Armed Forces and the country in numerous skydiving competitions since 1975 - 1995. An active BASE jumper. Did numerous demonstration jumps for corporate and official functions.

HAZIQ Azlan
Started jumping at the age of 14 years old and freefall on his third jump. In 2004, at the age of 16 years old, Haziq was the youngest competitor at the Saudi Arabia International Skydiving Competition. Appointed as the team leader for the North Pole Skydiving Expedition in 1997. A qualified Jumpmaster and is currently undergoing his instructional rating.
Did his first BASE jump from the KL Tower in 2010. An active mountain biker.
AHMAD ERWAN Yusof

A bank officer with 260 jumps. Is the Club Secretary since 1995. Represented the club at various local comp
etitions and demonstration jumps. Responsible for the packing of student parachutes.




DEMONSTRATION JUMPS AND AERIAL STUNTS FOR MOVIES AND COMMERCIALS SERVICES

We have a qualified demonstration team that can jumped into events such as Family Days, sports carnivals, launching of products by companies and many more. Price is from RM5000.00. It depends on the distance of the place to the nearest airport, number of jumpers required, the size of the landing area for the jumpers to land, etc. Price is negotiable and we guarantee satisfaction to our clients.

Other services that we offer are doing aerial stunts for movies and TV commercials. We were involved in two Hong Kong movies which were filmed in Malaysia. One was a Jackie Chan movie called 'Who Am I'.

The demonstration team members being presented to the late king, His Majesty The Yang Pertuan Agong after the night jump at his royal hometown of Sri Menanti in Negeri Sembilan.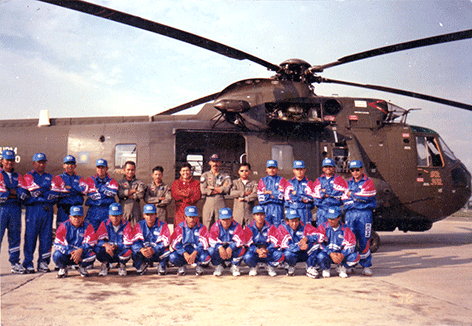 Three of our instructors were involved in the parachute jumps into the Bukit Jalil Stadium for the opening ceremony of the Kuala Lumpur Commonweath Games.