Q. Is skydiving dangerous?
A. With major improvements to the equipments as well as a comprehensive syllabus in the teaching of the sports, with emphasis more on safety, skydiving is today very safe.
Q. Are the instructors qualified?
A. All our instructors are highly qualified with 30 years of skydiving experiences. Together they have logged more than 8000 jumps.

Q. Are there any injuries?
A. I will be lying if I were to say there is none. Some of theses injuries are due to the negligence of the jumpers themselves.
Q. Are the equipment reliable?
A. The whole parachute system that you will be using are made especially for students. It is maneuverable. Parachutes are packed by qualified packers.
Q. What if my parachute does not open?
A. It is compulsory for every jumper to have 2 parachutes on every jump - a main and a reserve. Chances of your parachute failing to open is at 0.1 %. The ground class will teach you on how to handle emergencies if you were to encounter one during the jump.

Q. What s the age limit?
A. Eighteen and above. Those below 18 years have to get a written consent from their parents.

Q. Can I jumped if I am heavy?
A. Our parachutes are suited for those below 90kg.

Q. I am afraid of height!
A. Everyone is afraid of height. Skydiving is about conquering fear and height is one of them. Anyway you will be wearing a parachute on the plane that will open when you exit from it.
Q. Can I try tandem first as I am afraid to do it solo?
A. We do not have the tandem equipment to do it. Tandem also takes a longer time and the tandem-master can take only one student at a time, thus the one hour wait for the next lift is too long. We can arrange for tandem-jumps but we need a minimum of 5 people. The tandem-master is from Singapore and he needs this number of clients to make worth his trip to Segamat.
The cost is at RM1280.00 per jump.

Q. How about Accelerated Freefall (AFF)?
A. We will be doing it very soon once we have purchased the equipments.

Q. How long does it take to progress to freefall?
A. An average student will take about 4-6 static-line jumps before they can freefall. However, your exit during the static-line jumps will determine whether you can do it, because you need to execute a stable body position during exit to qualify. This is vital because you need to be in a stable freefall position to pull the ripcord to open your parachute.
Q. How much is the freefall course?
A. The course is at RM1200.00 inclusive of ground training plus 2 jumps from 6000 feet and above. You will be jumping together with the instructor. The third and subsequent jumps is from RM300.00 inclusive of rental of equipment.

Q. Is the Club insured?
A. No insurance firm wants to insure skydiving, probably due to their lack of knowledge of the sport. Driving is more dangerous than skydiving.

Q. Do I need to undergo a medical check-up?
A. We do not require you to undergo one, however you must be free from any heart ailment, serious asthma and do not suffer from epilepsy.

Q. Can I jump if I wear glasses?
A. We have goggles that you can wear over your glasses.
Q. Do I have to buy my own gear?
A. Not until you are really hooked into skydiving because the equipments that you will be wearing is worth more than RM20,000.00. Until you are really into skydiving, my advice is to rent our equipments.
Q. What about the attires?
A. We will be providing everything except for your sports shoes. We will provide you with jumpsuits, but if you prefer to wear jean or track-suits, you can do so.

Q. Why can't we jump in KL?
A. There is no way that the authorities will allow us to jump at their airports as we will be disrupting the commercial flights. Besides there are a lot of hazards near the airports such as highways, high tension cable lines and of course tall buildings. In Segamat, the dropzone is in the center of a golf course and we can jump without interruption from sunrise to sunset as the airspace is free from any flights..
Q. Is one day sufficient for a beginner to do the jumps?
A. The ground training covers every aspect of skydiving that a student needs to know before they can jump. We have been practicing this method since 1980.
Q. Why is the fees expensive?
A. Skydiving involves an aircraft and the rental is high due to the high cost of aircraft fuel. Besides the equipments are also expensive. Cost also involves the rental of premises in Segamat, wages for the crews, transportation and many others.
Q. How come there are companies that offer good discount for skydiving in the internet?
A. These people have approach us but we decline to worked with them. Don't be mislead by these unscrupulous adverts because these people are taking advantage of the popularity of the sport. They are scavengers and opportunist who are lazy but who will ride on the back of others for their own livelihood. When they have manage to get a few clients, they will passed them to skydiving schools for RM500.00 per head making an easy profit of about RM380.00 per student. Remember that what they offer is a one jump course. The catch is for you to do the second and subsequent jumps, of which you need to pay RM700.00 per jump. At the end you will be paying a lot more than what we offer. Besides that you will not get a license.
Q. What do I get after the jumps?
A. You will be awarded a certificate, a student license issued by the Malaysia Sports Aviation Federation (MSAF) which is valid for 6 months and a video of your first exit.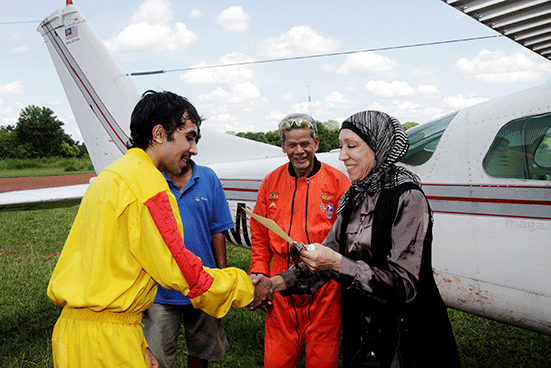 Q. Is the license recognised internationally?
A. MSAF is affiliated to the Federation Aeronautique International (FAI) which is the governing body for air-sports, thus the license is accepted worldwide. For the license, we need a passport-sized colored photo from you.

Q. How often does the club jumped?
A. Due to the high rental of the aircraft, we only jump when we manage to secure 10 new students as this is sufficient to pay for all the overheads. For this year we are trying to run a course once a month or at least two, if the response is good.

Q. How do I enroled?
A. Call the instructor at 017-375 3326 or 603 - 9285 0063 or 603 - 9202 0145 or email at azlanskydive@yahoo.com to enquire.
Q. How is the payment?
A. A deposit of RM500.00 is require a week before the class. The balance is before the jumps.
Q. We are students. Can you give me/us a discount?
A. Sorry, unless you come in a group of more than 15 people. Even then we can only you a discount of about RM30.00 per head.