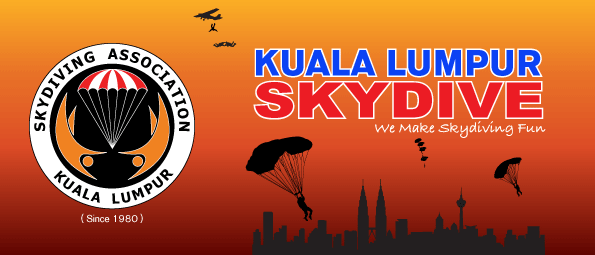 WE HAVE MOVED TO www.skydivemalaysia.my !
Jump with the Best!
The Kuala Lumpur Skydiving Association is the only registered skydiving club in Malaysia. Established in 1980, it has successfully trained and fulfilled the dreams of thousands of Malaysian civilians as well as foreigners. With the limited number of aircrafts available for the sport, we have to start beginners on static-line jumps and later progressing them to freefall.
In a static-line jump, the parachute will open automatically within 3 seconds after the jumper exit the aircraft. This is made possible by a static-line that pulls the pin to open the harness container to release the parachute.

Our experienced and licensed skydiving instructors will guide you with a complete knowledge and understanding of the sport before you can suit up at the drop-zone to experience the maximum excitement that will keep you talking about for the rest of your life. Feel the adrenalin rush as the wind blows into your face as you step out and leave the aircraft and then for three seconds when time seems to stopped, you anxiously wait and then shout with joy and excitement as you find yourself suspended under a beautiful parachute. Alone high up in the sky, you feel the silence and with the cool breeze blowing into your face, you take control of the toggles to maneuver the canopy down, impatient to call home and your friends to tell of your success..
Due to the limited airspace, we are only allowed to skydive at either Segamat in Johore or in Taiping, Perak. These 2 places is about 2-3 hours from the city. The permit issued by the Department of Civil Aviation Malaysia allows us to jump only on weekends.