FEES
The course fee is at RM1300.00 which is inclusive of 5-6 hours of ground class and 2 static-line jumps. Our one jump course is at RM1050.00 inclusive of certificate and license. If you want to do the second jump, just pay the balance of RM250.00. Its' the cheapest in town.

You may notice that on this page there are are a few adverts of some unscrupulous individual or companies that offer one jump course on the internet with prices as low as RM780.00. We have been receiving a number of complaints from individuals and groups about their services. Remember like any other cheap and unbelievable offers, there is always a catch to it. If you take their offer, you will end up paying a total of about RM1400.00 as their second jump is at RM700.00 and above.

Our class in Kuala Lumpur will be held a week before the jumps. Jumps will be held in Segamat, Johore, which is about 2-3 hours by road. Fees is not inclusive of transportation, food and lodging. Extra jumps is at RM300.00 per jump. Your exit on the first jump will be video recorded.

When you attend the class, a deposit of RM500.00 is required. If after completing the class you decide not to do the jumps, the deposit is forfeited. Before you do your jumps, you need to pay the balance. If you decide not to jump when you are in the air, you will not be refunded.

For Singaporeans that come in a group of 10 or more, we can conduct a 2 day course in Segamat. The course fee will be at RM1180.00 inclusive of twin-sharing accommodation. If required, we can provide the transport from the hotel to the dropzone.

The course syllabus includes introduction to skydiving, knowing and understanding the equipments, learning the technique of flying the parachute, practicing stable exit position, mastering flight drill, landing approach, recognizing and solving emergencies and lastly parachute recovery. For the class, you will be doing some exercises, therefore you need to wear suitable attires.

After the jumps, jumpers will be awarded a certificate and a license which is issued by the Malaysian Sports Aviation Federation.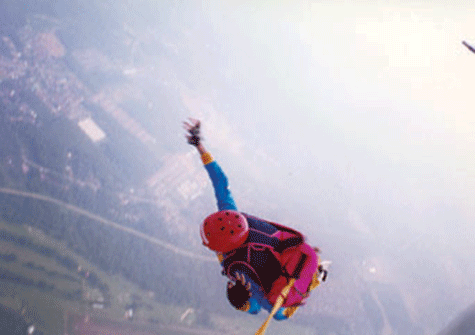 DATES
Due to the high rental of aircraft, courses can only be conducted when we have the minimum of 12 and a maximum of 24 people.
Once we have the required number, we will inform everyone of the dates.
TANDEM JUMPS
Tandem can be arranged if we can have the minimum of 5 people. The price is at RM1280.00 per jump.

AFF
We will be starting our Accelerated Freefall course very soon and the price will be released in due time.